Trabexus® EB™
Resorbable Calcium Phosphate Cement with Engineered Bone Trabs™
The first bone graft substitute designed to enable rapid remodeling of the trabecular architecture while providing sufficient strength and stability.
By fusing our CaP formula with engineered allograft bone particles (Trabs), we create a fully interconnected network of internal demineralized bone surfaces with heightened osteoconductivity. Unlike similar products, our rigorous testing has shown Trabexus EB to offer a significantly higher compressive strength than cancellous bone. Supporting rapid growth of living bone, Trabexus EB, effectively repairs and improves the cancellous bone it replaces.
Why make the choice between strength and resorption in the operating room? Trabexus EB offers a comprehensive solution to biocompatibility, and osteoconductivity without compromising results.
Basic Science:
Trabexus EB is a bone void filler composed of a proprietary engineered demineralize bone matrix and calcium phosphate cement.
Trabexus EB is:
Resorbable
Osteoconductive
Biocompatible
Isothermic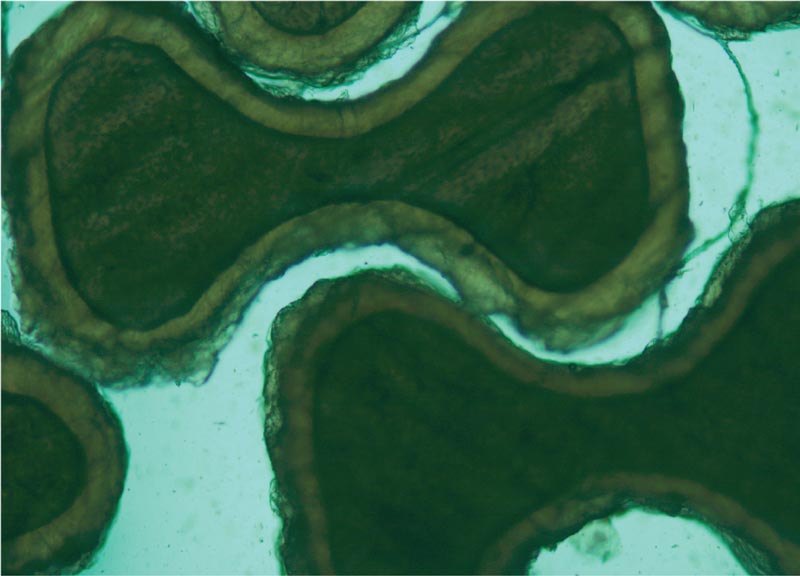 Product Composition:
Component 1: Calcium Phosphate Powder
Component 2: Catalyst Setting Liquid
Component 3: Trabs™
Vivorté, Inc.'s Trabs are engineered allograft bone particles designed for heightened osteoconductivity. The bone-to-cement ratio is optimized to create a fully interconnected network of internal demineralized bone surfaces, while preserving excellent strength. This formulation offers much higher compressive strength than cancellous bone, unlike other rapidly remodeling cements on the market and supports faster growth of living bone throughout the cement substance.
Instructions for Use:
Trabexus EB is a biocompatible calcium phosphate cement with shaped human bone particles (Trabs) which are combined with a setting solution to form a moldable putty/paste that sets in the body to form a composite. It is supplied sterile in single use kits having volumes appropriate to the surgical site, and is intended to fill bony voids or defects of the skeletal system. Trabexus EB bone graft substitute is five times stronger than the only other marketed calcium phosphate cements that contain human DBM. It promotes faster growth of living bone throughout the cement substance and, in effect, quickly becomes the cancellous bone it has replaced.
Adding Setting (Not Time Dependent)
Carefully dispense all of the setting liquid from the dispensing tube into the mixing bowl with the resorbable calcium phosphate cement and engineered bone Trabs. Care should be taken to not dispense too quickly and cause powder to blow out of the bowl.
Mixing (0-60 Seconds)
Mix the liquid and powder thoroughly until a cohesive putty/paste is formed and the liquid is evenly distributed.
This step is no longer than 1 minute.
Handling (1-4:30 Minutes)
Once the paste/putty is formed, it is now moldable and can be transferred into the defect.
The delivery device may be used.
See IFU for specific instructions if use of delivery device is desired.
All material must be transferred to defect site before hardening commences.
Setting (4:30-15 Minutes)
Timing is important.
Depending on room temperature, the cement begins to set at 4.5 minutes after the initiation of mixing.
Cement sets within 15 minutes of initial mixing.
Indications:
Vivorté, Inc. Trabexus EB is a moldable, self-setting, gradually resorbable calcium phosphate bone void filler with shaped particles of human bone (Trabs) that contain demineralized bone matrix (DBM). Trabexus EB is intended for use to fill bony voids or defects of the skeletal system (i.e. extremities, pelvis) that may be surgically created or osseous defects created from traumatic injury to the bone and only for bone voids or defects that are not intrinsic to the stability of the bony structure. Trabexus EB may be manually applied to the bony defect or applied to the defect through a cannula. Trabexus EB is gradually resorbed and remodeled by the body as new bone formation occurs during the healing process.
Contraindications:
Trabexus EB is not designed or sold for any use except as indicated. Do not use Trabexus EB in the presence of any contraindication. These conditions include but are not limited to:
Use in a currently infected field or surgical site near an infection.
Use in patients with acute traumatic injuries with open wounds near the defect that is likely to become infected.
Use in areas where surrounding bone is non-viable or is incapable of supporting or anchoring the implant.
Use in patients with abnormal calcium metabolism, metabolic bone disease, a recent untreated infection, immunologic abnormalities, inflammatory bone disease, and / or systemic disorders which result in poor wound healing or which result in tissue deterioration over the implant site.
Use in patients who have not reached an age at which skeletal system growth is essentially complete.
Use in patients with fractures or voids that link joint spaces and/or articulating surfaces.
Use in both vertebroplasty and kyphoplasty procedures.
Use in patients with known sensitivity to bacitracin, antibiotics, gentamicine, polymixin, B sulfate or alcohol. These solutions / chemicals are used as a part of bone processing and may be present in trace amounts.
Features/Benefits:
| Features | Benefits |
| --- | --- |
| High Compressive Strength | Demonstrates a maximum compressive strength five times greater than other DBM containing bone void fillers on the market.* It reaches strength of 25 MPa which is much stronger than cancellous bone.** |
| Heightened Osteoconductivity | Provides a scaffold for new bone growth that is perpetuated by native bone without compromising strength. |
| Presence of DBM (Trabs) | Allows for more extensive bone formation and overall cohesiveness. |
| Optional Use of Delivery Tool | Provides device versatility for various surgical procedures that may or may not require the tool during implantation. |
| Isothermic Hardening | Eliminates potential thermal damage to surrounding soft tissue. |
| Sizes | 3cc, 5cc, 10cc |
* Data on file at Vivorte, Inc
** Athanasiou, K. A., C.-F. Zhu, D. R. Lanctot, C. M. Agrawal, and X. Wang. "Fundamentals of Biomechanics in Tissue Engineering of Bone." Tissue Engineering 6.4 (2000): 361-81.